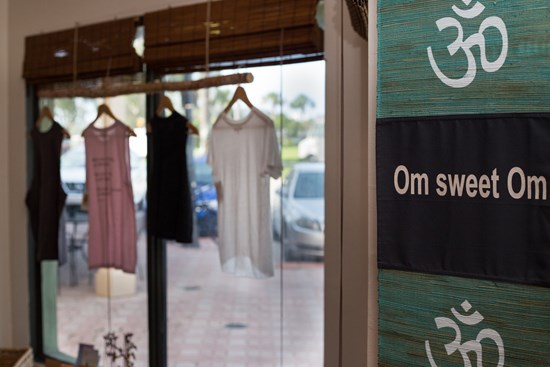 LOCATED IN DOWNTOWN DAYTONA BEACH
220 SOUTH BEACH STREET
DAYTONA BEACH,FL 32114
386-238-0909

OFFERING HEATED and NON-HEATED Classes:
BEGINNER'S YOGA (HATHA)
VINYASA FLOW (POWER)
BUTI YOGA
STRETCH AND RESTORE


A SANCTUARY TO (R)ELAX, (E)NERGIZE, (N)OURISH, (E)VOLVE into
(W)ELLNESS.

RENEW YOURSELF
News
Thursday, January 9, 2020 7:32 AM
January 12th and 19th 4:30pm Pop Up Class with Laura Burkhart
January 12th-Heart Hip and Core Flow (Master Class/Workshop) *Heated Class
Our current way of living tends to foster rounding of the shoulders, slouching of the torso and tight hips do to sitting at a desk or even activities like riding a bike, etc. During this all-levels well balanced master class, we'll gradually flow into deeper and deeper shoulder and hip openers, backbends and core work. We will round out the practice by lengthening the hamstrings and working on and balancing postures. You are sure to leave the class feeling very open and strong from head to toe, and skin to bone!
January 19th-Flow, Roll and Let Go *Heated Class
During the first half the class we'll move through a total body vinyasa flow that will strengthen, lengthen and awaken your body. We'll then shift gears by using balls to rollout popular areas of the body that tend to get overworked and/or hold a lot of stress! You'll feel lots of blood flow and tension release. It's time to flow, roll and let it all go!
---
Monday, August 5, 2019 9:09 AM
Sunday Pop Up YOGA at 4:30pm
This class will change weekly. Teacher and Style will change every Sunday so please check schedule for current class.
---
Wednesday, October 17, 2018 7:20 AM
We respect your digital privacy so we have made it an option for you to receive our Occasional Newsletter. Please "Opt In" for Newsletters if you wish to receive them in your inbox. Namaste